For the geek, it's just as much fun to decorate your website for Halloween, as it is to decorate your home, or dress up in a costume! There's a bunch of fun ways you can spookify your website or blog for the holiday.
If you have a WordPress powered blog, take a quick trip to the WordPress.org plugin repository for three super fun Halloween plugins.
Halloween WordPress Plugins
Introduced by DesignWall, DW Halloween is a fun WordPress plugin that creates funky flying pumpkins on your blog! Hover your cursor over the animation for a displayed message of Halloween greetings. The plugin is free, fast and easy to install and configure. You can see it in action here.

This plugin is fresh off the presses! Just added to the plugin repository today, it' sure to be a favorite! Simply upload the folder into your plugins directory. Activate the plugin. Go to your admin panel find Halloween >> Add new pumpkin. Configure it, you can change the Halloween greeting to your visitors. Then visit your site to see it in action! Super simple and a whole bunch of fun!
---
Halloween Quotes
Halloween Quotes is a wickedly good plugin from GigaCart.com. While it hasn't been updated in a couple of years, it works with the latest version of WordPress (3.4) and adds a touch of fun instantly to your blog. Don't be fooled by the title of this plugin, there's more to the eye than it seems. Not only does this nifty little plugin add a Halloween Joke widget to your sidebar, but also adds cute Halloween animations to your page!

Your visitors will be scared for sure when the fun skeleton head pops from the side of the page to visit, a spider floats down on his spidey web, or when bats flutter up the page. There's also an animated black cat that runs across the screen as well. Not to mention the pumpkin, witch, and some other ghostly effects.
---
Halloween Countdown Widget
Check out the cute Vampire Halloween Countdown Widget, from yours truly! Recently updated, our cute Vampire bat, whom we've named Vampy, counts down the days to Halloween and when he gets there displays a Happy Halloween message to your visitors.

If you forget and leave it in your sidebar after the holiday, no problem. Vampy will reset the countdown for next year and begin again!
---

Another easy way to spruce up your site for Halloween is to add fun Halloween Icons to your post and page titles… or anywhere else on your site.
Here are my favorite Halloween icon sets, all of them are free for download! Easier than trick or treating… just click it to get it.
Halloween Icons
Halloween 2012 – Icons by GoldCoastDesignStudio
Check out this set of 12 spooktakular Halloween icons. Set includes a bat, the grim reaper, jack-o-lantern, bubbling cauldron of witches brew, a cracked skull, creepy spider, bones in a bucket and more!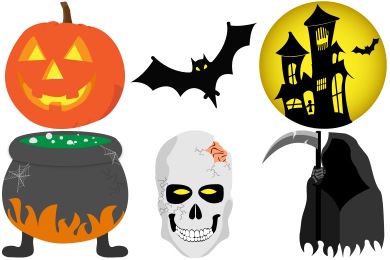 Halloween Icons by Zeus Box
A frightening set of 19 Halloween icons, free for download from IconArchive. This awesome set of Halloween icons includes one freaked out looking black cat, a host of pumpkins carved with fun faces, a terrifying bat and more!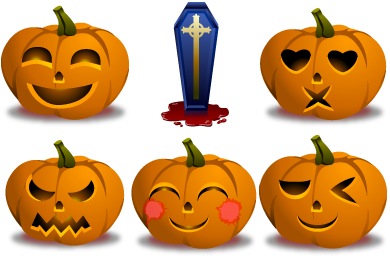 Witchery Icons by Cavemanmac
This witch crafty icon set includes 11 Halloween icons. Decorate your place in cyberspace with this fun brew of witch inspired icons that include a black cat, a witches hat, a book of spells, a broom, spider webs, bubbling cauldron and more!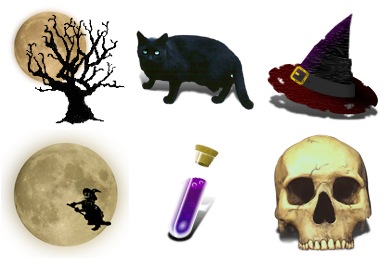 Those are just a few of my favorite sets of Halloween icons. Do a Google search and you'll find many, many more!
---

Still want more? How about using one of the awesome Halloween wallpapers as your desktop background, or you could even use them on your site as a full size background – like I did for this post!
Here's a few of my favorite Halloween wallpapers, click to download all different sizes. You can find a trove of them here. I'll start with the ghostly wallpaper used for this post! Enjoy.
Halloween Wallpaper
Halloween Haunts – Halloween Ghost Picture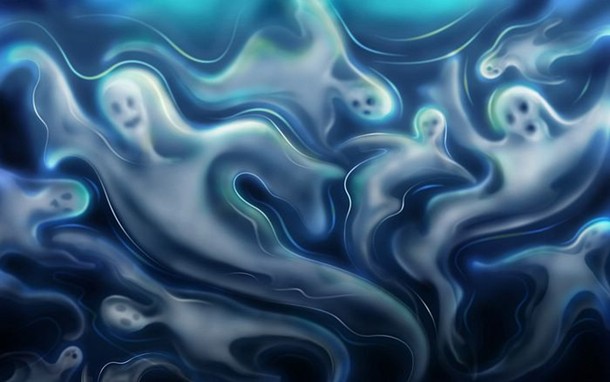 Halloween Haunts – Halloween Spiders Picture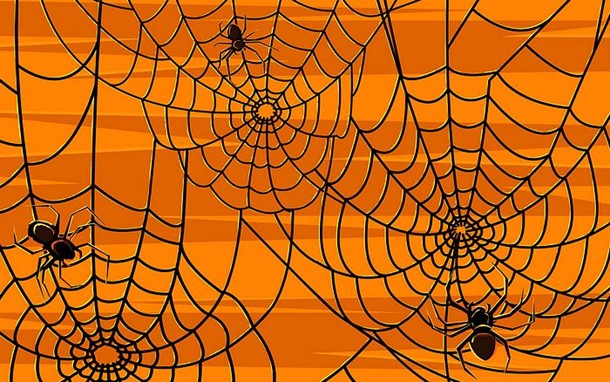 Halloween Haunts – Halloween Graveyard and Ghouls Wallpaper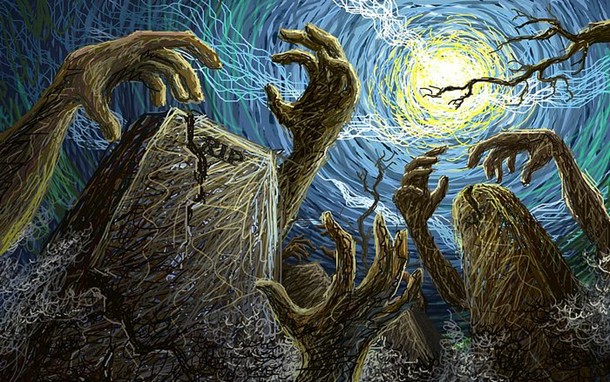 ---

Now that we've decorated our website with icons and our blogs with fun plugins, lets round up the best Halloween vectors and graphics we can find!
Check out a few of my favorite Halloween graphics from Vector Graphics Blog! The best place for awesome FREE vectors for all holiday occasions, including Halloween!
Halloween Graphics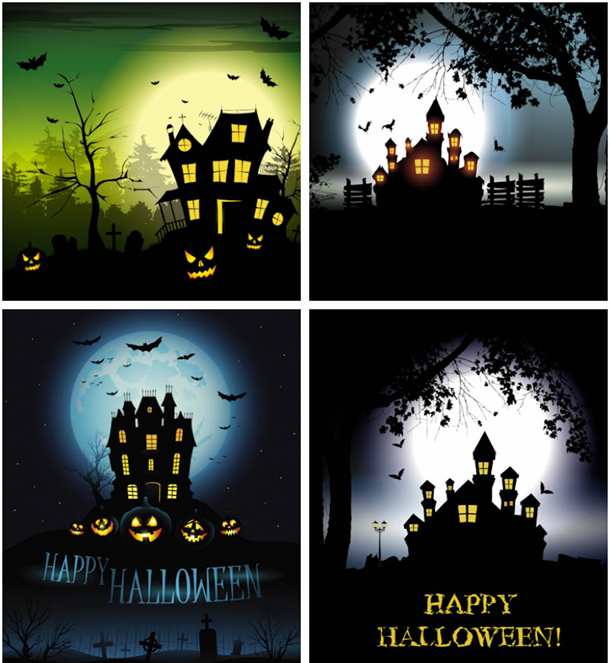 Halloween scary banners vector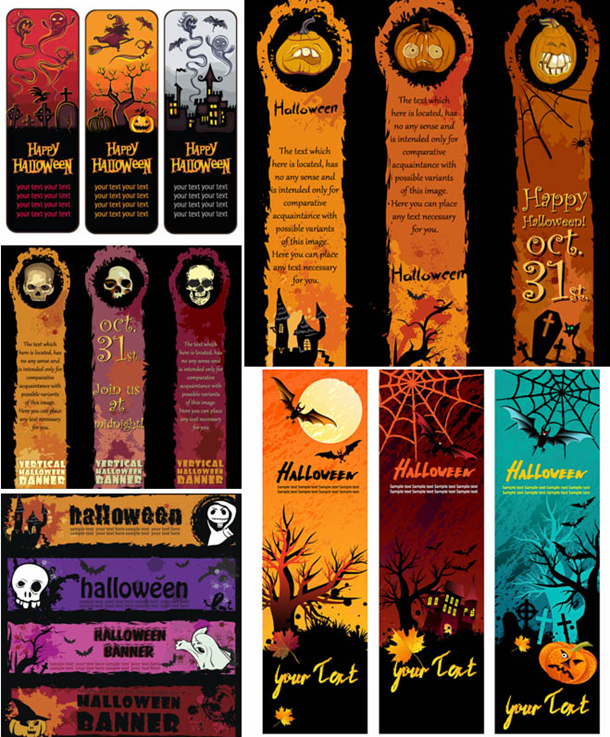 Happy Halloween banners vector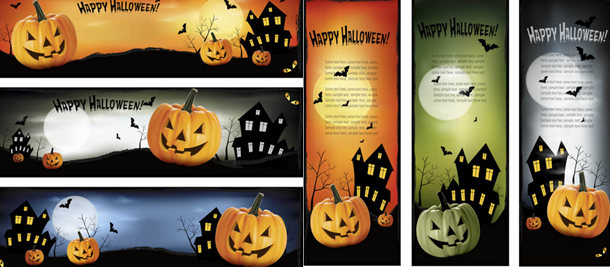 ---
On a side note, I have no idea how this ended up being sets of three of everything..? Anyhoo, I hope you find this post useful! I would love to hear from you in the comments…