What's up with this place?
Thanks for stopping by! I figured I should probably have some sort of 'about page' here so that you can have a chance of figuring out what the heck this site is about. So here goes…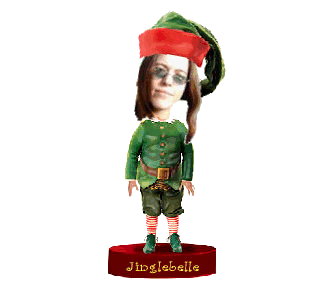 Let me introduce myself… Hi, I'm Monica aka Jinglebelle, and I've been a Christmas webmaster since 1999 when I started a little site called Jinglebell Junction – the merriest Christmas site on the web.
This site, Christmas Webmaster, was my second Christmas site endeavor, established in 2006 as a place to offer up site backgrounds, Christmas countdowns, widgets, graphics, clip art and other goodies made just for Christmas websites. The site was originally a static HTML site but, in 2011 I decided to take Christmas Webmaster in a different direction because of my new found love affair with the most awesome CMS on the planet, WordPress.
You see, my hobby morphed into my daily life, and I've had the pleasure of getting to work from home since 2007. I love running a network of Christmas sites and I really wanted a place for me to blog about my life as a Christmas Webmaster. And, it just so happens that I already had the perfect site to do just that. So long story short…
If you have your own Christmas website or blog or are going to build one, or even if you are just wanting to Christmassy up an existing site, you're at the right place! Christmas Webmaster, established in 2006 by a total Christmas and web design junkie, is the only resource of it's kind on the internet, dedicated to one subject only: Christmas for webmasters.
I hope you enjoy the site. That's about it for my about speech, if you'd like to know more about my journey to Christmas web monkey extraordinaire, read on…
The early days, a geek is born.
I started out messing with HTML and all things geek when I got my first PC & dial-up connection back in 1997. The internet was still pretty new to the general public back then but I was addicted the minute I sat down, and instantly knew that I could never live with out it. Back then I had a day job waiting tables at a Greek restaurant, but on my days off and in my spare time, I read everything I could about HTML and site design, and thus started my website hobby. I was a back-room geek before it was actually 'cool' to be a geek. Back then nerds were mocked, and let me tell you, I had my share – especially being a girl geek!
I first built a little static site called "The Junk Shak", that was nothing but, well, web junk – animated gif's, some flash files (anyone remember Hecklers?), fun links, poetry and parodies and such. The back-end was a playground for me to put what I was learning to the test. And the end result – the front end of the site was fun for my friends and family to come visit. Showing off your work is the best part, right?
But why Christmas?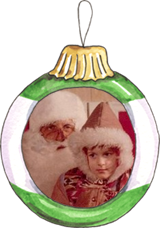 For as long as I can remember I've been completely Christmas crazy. Some of my earliest memories are of Christmas – way back in the 70's when I was a kid, as soon as there was a hint of Halloween in the air, I was ready for Christmas!
My granny had a bevy of Christmas records and one of those floor model AM/FM stereos that had a turn table and 8-track player. I'd get those records out and start playing Christmas music all fall and well past the first of the new year.
Her Christmas collection included the greatest Christmas music of all time, stuff like Gene Autry's Rudolph the Red Nosed Reindeer, Burl Ives' Holly Jolly Christmas, Perry Como's I'll be home for Christmas, Nat King Cole, Dean Martin, Elvis and his blue blue Christmas… These are the things that inspired me most.
Granny's sister, my wonderful great aunt Alice, whom I cherish, was probably my greatest influence.. That woman decorated like she was a direct descendant of Santa Claus, himself. She would line her whole house with those huge c9's, remember how awesome Christmas in the 70's was? She would climb on the roof, herself, and string lights on every straight line she could manage, LOL.
Blowmolds of Santa and Snowmen in the front yard, and two awesome Candles that I adored flanked the entryway, and a strand of twinkling red bells across the porch. I remember driving up the street as a kid and seeing her house all aglow, it looked like a giant lit up candy house right from the north pole. Absolutely magical, and still as vivid in my memory today, and thanks to eBay, I have the same set of candle blowmolds and a set of those red bells that twinkle.
The indoors of my aunt Alice's house was just as awe inspiring. She always decorated like you wouldn't believe. Inside she would always have a themed tree, that was cut from her own back yard… I swear a time or two her tree was really just a giant bush she managed to hack down!! She had little ice skaters on a mirror pond right in the middle of her Christmas village, they really skated around! And a Christmas train running under the tree… it was like a scene from a Christmas movie and simply magical.
Fast forward to 1999… In October of '99, I had moved away from my home in the mountains of western NC, to the wild wonderful hills of West (by gawd) Virginia, and I was feeling pretty homesick. Christmas was just around the corner and I decided to throw together a little site named Jinglebell Junction, over at Homestead to celebrate Christmas online.
I really built the site in hopes that my friends and family would celebrate Christmas in a new way, it's the glorious digital age, ya know? And the Christmas site became my baby, but my family wasn't as enthused about it as I was. Actually, some of them didn't even have computers yet, so how could they be? I was, and still am, really proud of the site, while it was only three pages to start, it had a chat room. Yup! Remember those??
Christmas has always been my thing and eventually The Junk Shak went by the wayside, while JingleBell Junction took all my focus. Besides, who cares if it's my family coming by to enjoy the site, right?
And that's about all folks…
My nickname since I was a kid is Monkey, I'm also known around the web as Jinglebelle, when I'm not here blabbering on about something, you can find me hanging out over at Talk Christmas, the merriest Christmas forums on the web… or on Twitter.
And of course, if you're looking for Christmas web design, Christmas logos, or would like a Custom Christmas WordPress theme built, please visit my company site: The Christmas Network… yup, a shameless plug for my Christmas website design services!
Random Stuff
The highlight of my sci-fi loving life to date – since I was a kid watching Star Trek in re-runs… is hands down the time Brent Spiner -aka- Mr. Data re-tweeted and replied to one of my tweets! tweet embedded below, of course!
Rt @monkeymays Watching Star Trek Nemesis, did you really sing Blue Skies? –No, that was Brent Spiner singing.

— Brent Spiner (@BrentSpiner) January 6, 2013
The things I do for fun include lots of watching crap on netflix, and tweeting. I take screenshots of pretty much everything I watch and love making mashup wallpapers for my dual monitors. Did I mention I like to tweet?
Did I mention I like to tweet? If you'd like to get to know me, you can find my personal Twitter account here:
Follow @monkeymays