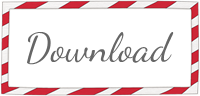 We are super happy to announce the release of our first WordPress plugin, Santa's Christmas Countdown Widget.

It's never too early to let the Countdown to Christmas begin! Download the plugin from the WordPress plugin repository to add a cute Santa Claus inspired Countdown to Christmas in the sidebar of your blog.
Santa's countdown never needs updated!
When the countdown reaches Christmas day, Santa's Countdown will display a 'Merry Christmas' greeting to your visitors. Santa starts his countdown again on the day after Christmas day, every year.
New: Use Santa's countdown on any post or page!
Check out the latest version of our Christmas Countdown Widget, I added shortcodes so that it can be used in any post or page! Very cool 🙂
To place the countdown on a post or page, you must first have the plugin installed. Then, use the shortcode [countdown] in your post. This will display the countdown to the left of your text. Use the shortcode [countdown-right] to display the countdown aligned right of your text.
Installation and Screenshots
Upload plugin and install. You can install through your WordPress admin panel.
On the plugins panel activate the Christmas Countdown Widget.
In the widgets menu drag the Christmas Countdown Widget to your sidebar.
The Christmas Countdown Widget displays a cute Santa countdown in your sidebar!
Since v2 – use the shortcode [countdown] to display the countdown on any page or post.


Love the plugin? I would love to hear from you in the comments…