If you have submitted your plugins to the WordPress repository, you've most likely noticed the "support" tab on your plugin's page. WordPress.org users can ask questions about your plugin right from the plugin page, but the developer isn't notified when questions are asked. This can lead to long wait times for users, because the developer may not log onto WordPress.org regularly.
I have a dedicated landing page for each of my plugins, which is standard practice for the majority of plugin developers. For myself, it would be much easier to answer support questions on my own site, as I log in each day. Users would get faster responses, that's for sure.
Obviously, you can't get each person needing help to come to your site and ask for it, most of them will ask their questions at the repository.
Recently I clicked the support tab of one of my plugins and realized someone had asked a question over 4 months ago, and I had failed to notice. To remedy this, I decided to get daily notifications right to my inbox. Here's how I did it…
First, find the rss feed from your support tab.
Go to your plugin's page, click on the support tab. Near the lower left corner, you'll see the orange rss button and feed link. Click it and copy the url, it should look something like this:
http://wordpress.org/support/rss/plugin/santas-christmas-countdown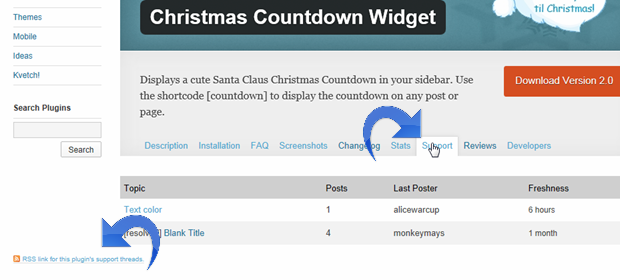 Burn the feed at feedburner.
Go to feedburner and burn the feed by pasting the url and clicking next. You will need to be logged in to your google account.

Subscribe via email to your feed.
Now, click the publicize tab, then click on Email Subscriptions, select options – I set mine to daily notifications, then activate.
Start getting emails.
All that's left to do is subscribe to your new feed and Voila! You'll now get daily notifications of support requests right to your inbox.