Ah, the best time of the year is upon us! I love everything about Christmas and tend to decorate like a crazy person, including my websites. If you're looking for something fun to add to your WordPress site, check out these awesome holiday plugins.
One of my all time favorites is Snow Storm. This awesome little plugin displays falling snow flakes on the front of your WordPress website for a truly festive presentation. You can see the cute wintery effect in action on Jinglebell Junction.



This plugin helps you setup a custom message with cool graphics for all your visitors. This message can be a welcoming season's greetings or may be a news for the new attractions on your website. It's like putting up a billboard to grab your visitor's attention.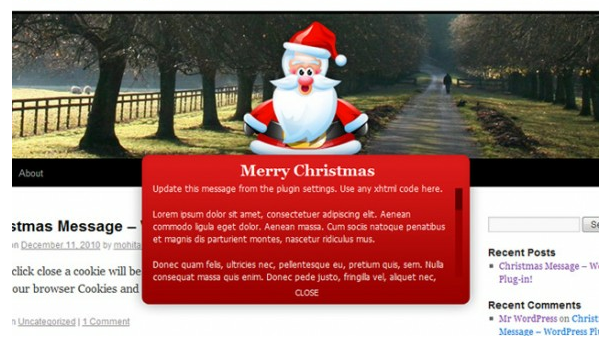 Christmas countdown clock showing days and hours until Christmas day. Select from several designs, sizes, animations and backgrounds.


And of course, a shameless plug for our own plugin – The Christmas Countdown Widget displays a cute Santa Claus counting down to Christmas in your sidebar. On Christmas day Santa displays a "Merry Christmas" greeting to your visitors. The Christmas countdown will appear in your sidebar on a transparent background so it looks good with any theme.

This little plugin simply adds a string of lights to your WordPress powered site. Nothing to configure, install and activate and you're ready to go!