Christmas is just around the corner and it won't be long till you'll want to Christmassy up your blog… I'm really excited to announce that our first free Christmas WordPress theme, ChristmasPress, is coming soon! And yes… I said free! You may be wondering why we're giving the ChristmasPress theme away for free? Simply because we love Christmas… it's our Christmas gift to you!
ChristmasPress is a modern, sassy, pink and purple theme with cute cartoon characters and a vibrant background. ChristmasPress features include a widet ready sidebar, google webfonts, a built in Christmas countdown – that never needs updated, custom shortcodes, styled comments, cute error 404 page, a custom gravatar… and much more!
ChristmasPress has a release date set for late October*MID NOVEMBER 2012, JUST in time for the holidays! *We've pushed the date back a couple of weeks in order to add a support forum for the theme, and a few extras!
I'll be sure to keep you guys posted on the progress. And, while I have you here, be sure to check out our new WordPress tutorials section! I've really learned a lot while developing our free Christmas WordPress theme and have been building a library of useful WordPress tips and tricks.
ChristmasPress Screenshots
Page with an image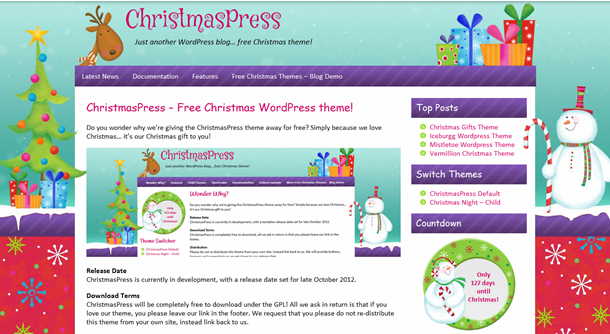 Blog Category Archive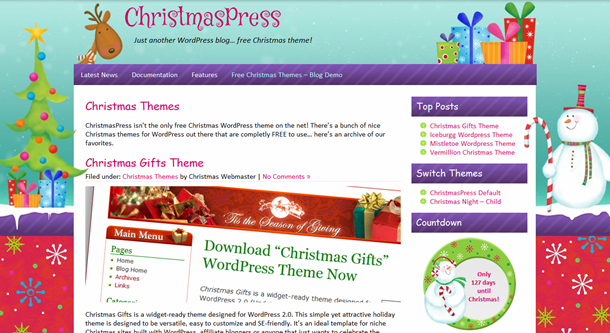 Error 404