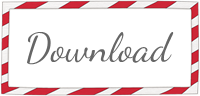 Hey guys, Happy November! I just wanted to take a minute to make sure you guys update to the latest version of Santa's Christmas Countdown. If you've got our Christmas Countdown Widget installed on your WordPress blog please install the update immediately. Latest Version 1.2 Fixes the missing day issue, which is due to leap year.
Our Christmas WordPress Plugin – Christmas Countdown Widget displays a cute Santa Claus counting down to Christmas in your sidebar. The countdown automatically updates each year and starts the countdown over again on the day after Christmas so that you can leave it in your sidebar all year round if you want!
As of today's update, Santa's Christmas countdown will appear in your sidebar on a transparent background so it looks good with any theme.
The main fix, however, was to the countdown script itself. Now, when the countdown reaches Christmas day, Santa will display a "Merry Christmas" greeting to your visitors!
I want to go back to the leap year thing I mentioned above, though. Since there's an extra day in this year, the countdown will display "Merry Christmas" on Christmas day, as well as the day after. On December 27th, the countdown will reset itself and begin the countdown again.