Santa's Christmas Countdown Widget for WordPress
We are super happy to announce the release of our first WordPress plugin, Santa's Christmas Countdown Widget. Let the Countdown to Christmas begin! Download the plugin to add a cute Santa Claus inspired Countdown to Christmas in the sidebar of your blog. Santa's countdown never needs updated! Santa starts his countdown again on Christmas day, every year.
Installation and Screenshots
Upload plugin and install. You can install through your WordPress admin panel.
On the plugins panel activate the Christmas Countdown Widget.
In the widgets menu drag the Christmas Countdown Widget to your sidebar.
The Christmas Countdown Widget displays a cute Santa countdown in your sidebar!
Thinking about making your own WordPress plugin? Visit Pippins Plugins for THE best how to tutorial series ever. Then check out this tutorial on how to publish to the WordPress repository.

Special thanks
… to Tim from over at
Customs of Christmas
for the use of his awesome countdown script in the original version of this widget.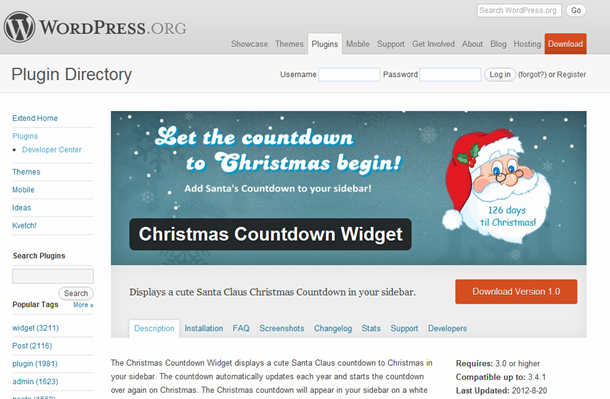 Love the plugin? I would love to hear from you in the comments…